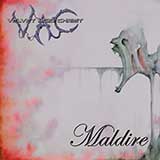 Maldire
DIGITAL (2012) · Listen & Buy on Bandcamp
Also available:
CD $12.98
Velvet Acid Christ stands as the long running, innovative brainchild of Bryan Erickson. Over a career spanning 20 years, Velvet Acid Christ has fearlessly expanded its scope, seemingly enveloping an influence and forging the further refinement of the VAC sound. The latest opus,
Maldire
, evidences this fact perfectly. The acoustic guitars found on tracks on the previous album
The Art of Breaking Apart
may not be present on
Maldire
, but at the beginning of the new album we find VAC exploring the slower, spookier, brooding themes. "HyperCurse", a dark psytrance song, opens the way to the second half of
Maldire
, featuring VAC at its most aggressive.
Maldire
exemplifies what Velvet Acid Christ is all about, as it finds Erickson both returning to his evil electronic dance roots as well as pushing the creative boundaries ever further.
Track List
01. Evoked
02. Septic Rinse
03. Bend The Sky
04. Wasted
05. HyperCurse
06. Ominous Rattle
07. Maldire
08. Inhale Blood
09. Christ Whore
10. Dream Curse
11. Mysteric
Also See