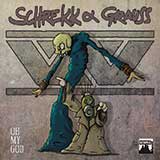 Schrekk & Grauss
DIGITAL (2011) · Listen & Buy on Bandcamp
Also available:
CD $8.98
Riding high on the success of his previous two albums, Wumpscut mastermind Rudy Ratzinger now presents his latest effort
Schrekk & Grauss
(loosely translated as "Scare & Horror"). Active since 1993, Wumpscut is one of the few industrial acts that have succeeded in maintaining a prominent position in electronic music since its very beginnings, with a total of 18 albums so far in the discography.
Schrekk & Grauss
offers the infamous :W: sound- harsh industrial, synth-driven, with distorted vocals and scary melodies. After a few excursions into more 'mellow' sound-regions in recent releases, on
S&G
Rudy R. returns to the more aggressive, harder stuff – always maintaining his special trademark: a well balanced mélange of catchy melodies, great arrangements and industrial noise.
Track List
01. Rudolf Wolzek
02. Schrekk & Grauss
03. Muselmann
04. Elende Buben
05. Patient A.
06. Jiddisch Is A Zwillink
07. Wumpelstilz
08. Kikeriki
09. Zombibikini
10. Alles Aus
Also See