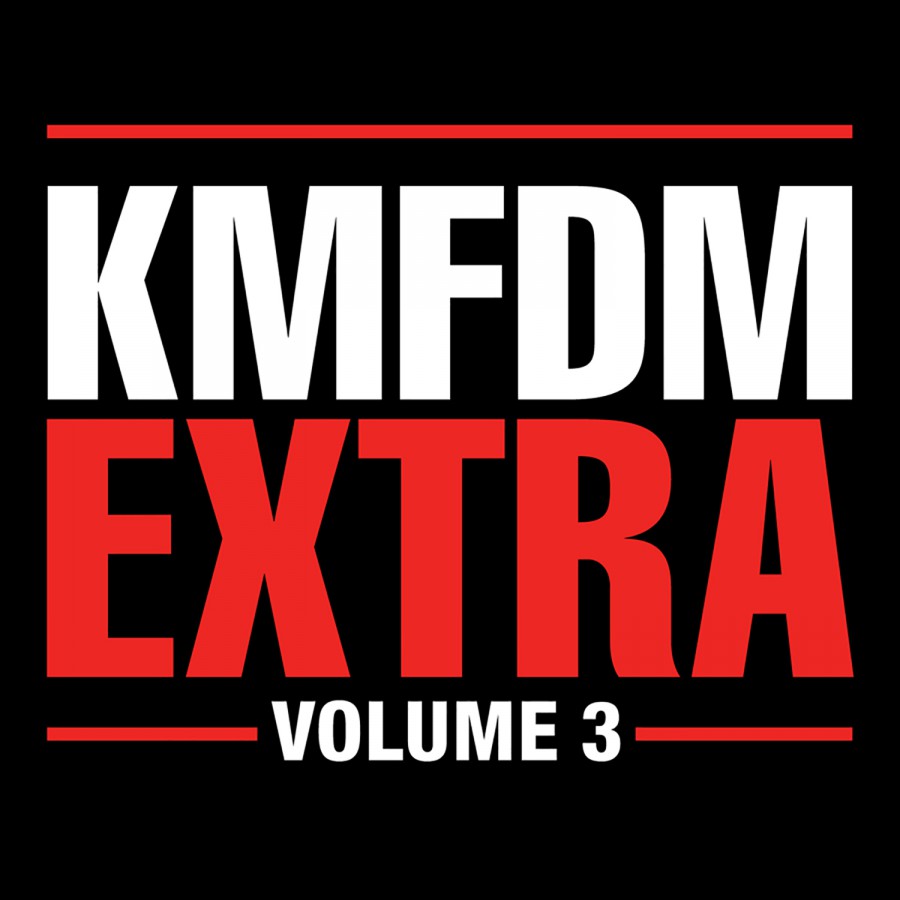 Extra Volume 3
DIGITAL (2009) · Listen & Buy on Bandcamp
Also available:
CD · EXTRA Vol. 3 2CD $12.98
Metropolis Records presents KMFDM Extra. Extra is a three volume set of double disc collections of all KMFDM tracks not included on the ten KMFDM Classic albums. KMFDM Extra features recordings culled from the band's 12" vinyl singles, CD singles and alternate versions of albums. Every track in the Extra series has been remastered by the same crew who did the amazing remasters for all 10 KMFDM Classic albums. All of the material on Extra has been out of print for many years. Some songs in the Extra series appear on CD for the first time ever and none of them have been released in remastered form before. Continuing the tradition started with the KMFDM Classic releases the accompanying booklets for the Extra series are packed with exciting material. Some highlights include cover art from every album and single from which cuts were taken (most covers are by famed KMFDM cohort Brute!), never before seen photos of the band from the time period, release history info for all tracks and previously unavailable complete recording information and credits. As it has been with all the KMFDM re-releases on Metropolis, work on this series, from the remastering to the packaging, has been done with the highest level of participation from Sascha K., KMFDM's leader and founder.
Extra Volume 3, coming October 7th, is comprised of songs from the Glory single in 1994 to the MDFMK EP in 1998. This two disc set contains 26 tracks, over 2 hours and 16 minutes of music. Extra Vol. 3 features the original re-mixes of some of KMFDM's biggest hits: "Juke-Joint Jezebel", "Megalomaniac", "Brute", "Anarchy" plus b-sides, extra tracks and more! Extra Vol. 3 also includes a 16 page booklet featuring art, photos and anecdotes.
Extra Vol. 1 and Extra Vol. 2 are out and available now, get them all and complete the KMFDM Extra trilogy. "Extra! Extra! Read all about it, KMFDM Extra is better than the best!"
Track List
01. Move On (Scott Burns Remix)
02. Glory (Cajun Mix)
03. Juke-Joint Jezebel (Single Mix)
04. Kraut
05. Juke-Joint Jezebel (Poly-Matrix Mix)
06. Juke-Joint Jezebel (Metropolis Mix)
07. Juke-Joint Jezebel (Paradox Mix)
08. Juke-Joint Jezebel (Poly-Matrix X-Tended Mix)
09. Juke-Joint Jezebel (Poly-Matrix X-Tended Mix Instrumental)
10. Brute (Single Mix)
11. Brute (Kun$t Mix)
12. Brute (In Your Face Mix)
13. Brute (Punch Mix)
14. Revolution II
15. Son Of A Gun (Overhauled Mix)
16. Inane (Undermined Mix)
17. Rules (Reapplied Mix)
18. Power (Single Mix)
19. Megalomaniac (Single Mix)
20. Anarchy (Payola Mix)
21. Megalomaniac (Excessive Force Remix)
22. Anarchy (Fusako Mix)
23. Megalomaniac (UXII Mix)
24. Unfit (Death Before Taxes Mix)
25. Anarchy (God And The State Mix)
26. Megalomaniac (TVVA Mix)
Also See