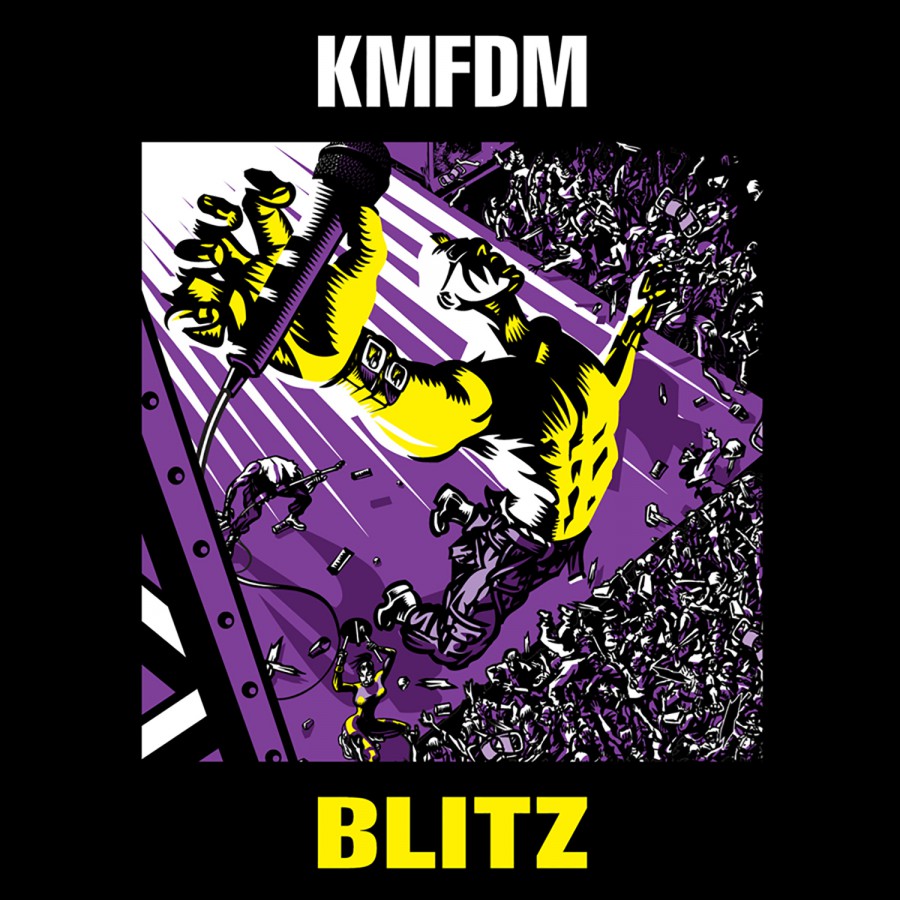 Blitz
CD (2009) · $12.98   add to cart Listen & Buy on Bandcamp
Celebrating 25 years of the ultra-heavy beat, KMFDM proudly announces their new album on Metropolis Records, Blitz. Blitz heralds the return to the five-letter album name, an 18 year tradition that the band obliterated with their recent ten-letter name albums, Tohuvabohu and Brimborium, in 2007 and 2008.
Blitz contains 11 new sonic blasts from the Kapt'n and Krew, tipping the scales at over 52 and a half minutes. Under the direction of KMFDM founder, leader and vocalist Sascha K., Blitz is dominated by analogue synthetics with high-powered hooks. KMFDM's female singer, Lucia, lends her vocal power to the groove-laden "Bait & Switch", the dance-driven "Never Say Never" and others. The tracks are rounded out by some assistance from the KMFDM line-up of the last half-decade - Jules Hodgson, Andy Selway and Steve White.
One surprise element of Blitz is the return of wayward KMFDM-er Tim Skold, lending a hand throughout with instrumentation and production. Another unexpected re-appearance comes in the form of singer Cheryl Wilson, dueting with Lucia on the disco-amped "Strut".
No strangers to naming things with unpronounceable icons, Blitz leads off with a track known only by a symbol. This image pervades the Blitz album artwork, pointing to a message for those who look closely. The Blitz artwork also features a powerful and riotous cover illustration by long-time KMFDM stalwart Brute!
Adding to the growing list of languages sung in the KMFDM canon (English, German, Latin, Hebrew, Lingala (an African language) and Spanish), KMFDM breaks new ground with "Davai", sung in Russian. Of course there is still room in the catalog for another German language track and KMFDM delivers with "Potz Blitz!"
Joining the pantheon of illustrious KMFDM covers is The Human League's seminal new wave juggernaut "Being Boiled", given the full-on electro treatment by Sascha K. Blitz provides the complete KMFDM experience, running the gamut of the band's expressive styles and themes, from the ultimate irony of "Bitches" to the political militarism of the final track, "Take'm Out".
KMFDM invites you to experience full blown chaos with Blitz, the ultimate blast!
Track List
01. (Symbol)
02. Bait & Switch
03. Davai
04. never Say Never
05. Potz Blitz!
06. People Of The Lie
07. Being Boiled
08. Strut
09. Bitches
10. Me & My Gun
11. Take'm Out
Also See