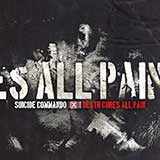 Death Cures All Pain (Digital Only)
DIGITAL (2010) · Listen & Buy on Bandcamp
Hard-Electro legend Suicide Commando returns once again to attack the dance floor!
Death Cures All Pain
, the second single from the most recent album
Implements Of Hell
, is a thudding, dark and ferocious monster that is bound to move listeners with a combination of massive beats and menacing atmosphere. This is no mere dance track, this is sonic horror that punches you straight in the guts. The new digital-only EP sports not only four versions of the title track and two other remixes of album tracks, but also two versions of the aggro-pounding B-side "Go Fuck Yourself" resulting in an EP that is nearly a full length album.
Track List
01. Death Cures All Pain (Suicide Edit)
02. Go Fuck Yourself (Bashing Hard Mix)
03. Death Cures All Pain (SITD Remix)
04. Death Cures All Pain (Aesthetic Perfection Remix)
05. The Perils of Indifference (Stahlnebel vs. Black Selket Remix)
06. Go Fuck Yourself (Extended Bashing & Mocking)
07. God Is In The Rain (Advent Resilience Remix)
08. Death Cures All Pain (Kant Kino Remix)
Also See