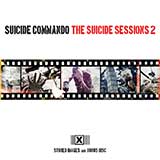 The Suicide Sessions 2
CD (2012) · SALE! $8.98   add to cart
Not many Electro-bands can look back upon a quarter of a century of existence and numerous timeless club anthems and still be going strong as hell! Suicide Commando is not only celebrating its 25th anniversary this year, they are also one of the rare acts that can rightfully claim to have pioneered an entire genre! In the light of this special birthday, the "godfathers of Harsh Electro" are releasing a special 6 CD collection entitled
The Suicide Sessions
. This consists of the band's classic first three studio albums,
Critical Stage
,
Stored Images
and
Contruct-Deconstruct
, all of them receiving a shining sonic overhaul via a bone-shaking remaster from the original master tapes plus new artwork.
The Suicide Sessions
also sports three companion CDs full of B-sides, as well as rare and previously unreleased material from these early years. Join the group on this insightful trip into the past, rediscover classic anthems like "See You In Hell", "Save Me" or "Better Off Dead" and delve into heaps of undiscovered or lost gems. A must-have for fans and the perfect celebration of the anniversary of one of the most influential groups in harder electronic music!
[This session is Stored Images plus bonus material.]
Track List
DISC 1
01. Murder
02. The Exit
03. Save Me (Remix)
04. The Human Disgrace
05. Intercourse (Reloaded II)
06. Dying Inside
07. Mortal Combat (Final Act I)
08. The End Of Your Life
09. Actions Of The Mind
10. T.V. - Obsession
11. See You In Hell

DISC 2
01. Fall Away
02. See You In Hell (Part 1 & 2 - Extended Mix)
03. Head Down
04. Delusion
05. The Face Of God
06. Traumatize (Clubmix)
07. See You In Hell (Remake By Monolith)
08. Burn Baby Burn
09. Last Decision
10. Murder (Extended)
11. See You In Hell (Live In Bielefeld)

Also See