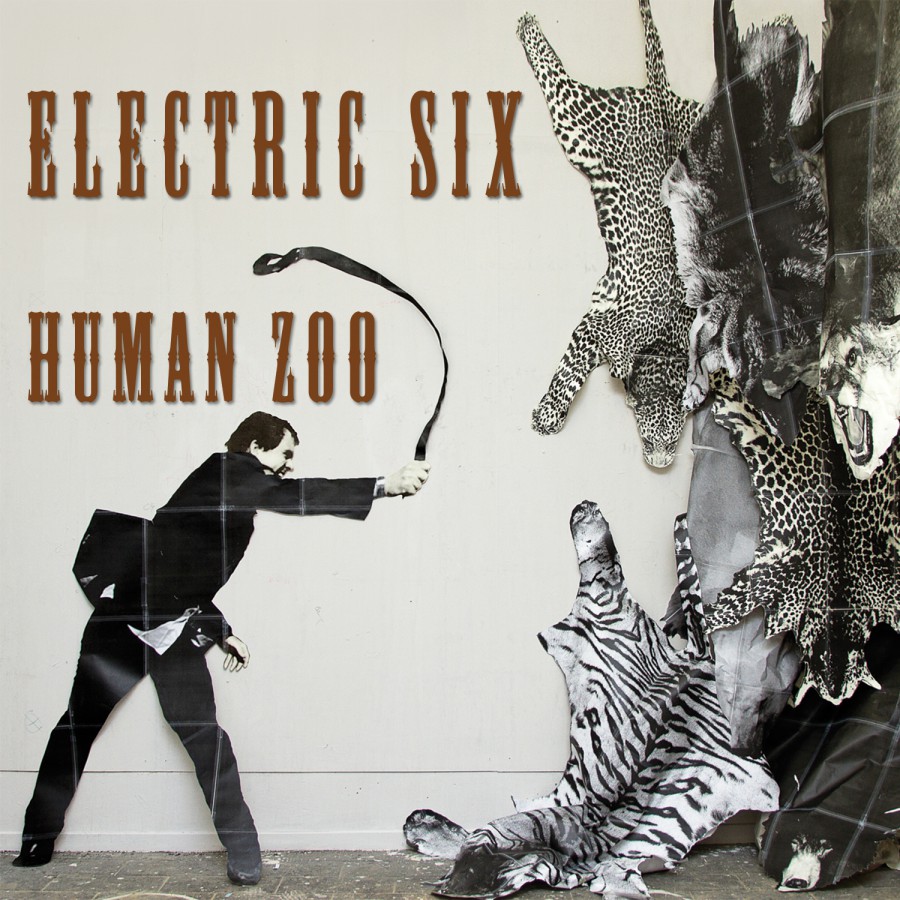 Human Zoo
CD (2014) · $12.98   add to cart Listen & Buy on Bandcamp
Also available:
Vinyl · [Limited Edition Vinyl] $18.00
The concept of the "human zoo" has existed in art and literature for centuries, thus Electric Six recognizes and accepts it is not breaking new conceptual ground by naming its tenth studio album Human Zoo. It recognizes and accepts that old ground is being broken. Like teeth.
The first known reference to a human zoo is believed to be from the mid-to-middle 12th century, when the famous Flemish monk Wenslaus De Trappe wrote of his base desires to cage human beings and charge money to display them in humiliating fashion in his classic 14 Trappist Monk Tales. From there, the human zoo concept snowballed and could be found everywhere from Restoration literature (Lord Percy Nutton's Northumberland Abbey), to Nazi propaganda (Die Mensch Zooiedieschennel) to 20th Century American counterculture (Tal Rosenberg's 20 Days on Acid – I Am a Pinhole Camera), the last of which where the author famously imprisons his lawyer/traveling companion in a cage and places him at the corner of Haight and Ashbury to stand trial for helping contribute to a bad trip.
Electric Six recognizes the legacy of the human zoo concept and throws its hat into the conceptual milieu with a great deal of respect and humility. We do not seek to define the human zoo, nor do we seek to deconstruct it. We seek to explore it. We seek to expand it. And most of all, we seek to sell it to you.
Electric Six recognizes that when men and women are placed in cages and displayed like animals, a power dynamic is being constructed. The human in the cage has his basic rights discarded, his dignity stripped from him, whereas the human who pays to observe other humans establishes his superiority just by casually standing and watching, choosing to leave whenever he likes. In this same way, Electric Six seeks to put itself on display in such a manner that empowers the listener and debases the band all while making everyone feel like partying.
From the opening track "Karate Lips", Human Zoo takes the listener immediately into a teenage karate tournament for girls as refereed by Def Leppard. The crunchy guitars hit you in the face like a teenage foot and you immediately remember why you purchased or illegally downloaded this latest Electric Six album.
Like many E6 albums, Human Zoo does not have one defining sound, rather it is a sampler's plate of the entire history of rock and roll music. Like Motown…now we are doing Motown. "Alone With Your Body" is the feel good necrophilia anthem of the summer and it sees the band embracing this oft overlooked section of our hometown's musical history.
From there we ramble into the spaghetti-western marching band good times of "Gun Rights", the triumphant Disnification of "I've Seen Rio in Flames", and into the absurd hip hop of "(Who The Hell Just) Call My Phone". Thrown in a few classic rockers in "I Need A Restaurant" and "Worst Movie Ever" and you've got an E6 album, son!
But it's not an E6 album until the closer is better than the rest of the record combined. The gorgeous, haunting pop of "The Afterlife" might be the greatest thing the band has ever done. Ever.
Okay we said some stuff, told you some song titles, and threw you a few bones. Come on now, buy the record! Who cares about all that other stuff? Have a go, see what happens! Give it a shot! Human Zoo is available on Oct. 14 on Metropolis Records. Come see Electric Six play in your town this fall on the Some Girls Do It for Love tour. Visit electricsix.com for tour dates.
Track List
01. Karate Lips
02. It's Horseshit!
03. Alone With Your Body
04. Satanic Wheels
05. Gun Rights
06. I've Seen Rio In Flames
07. (Who The Hell Just) Call My Phone?
08. I Need A Resteraunt
09. Worst Movie Ever
10. I'm The Devil
11. Good View Of The Violence
12. The Afterlife
Also See