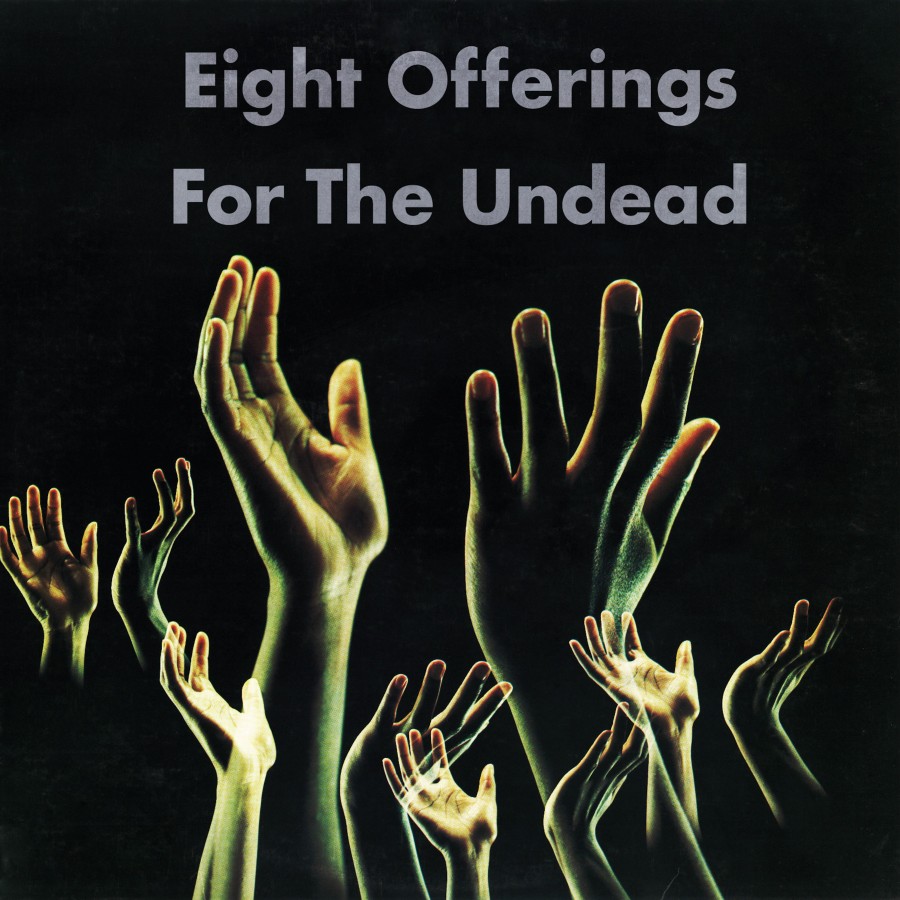 Eight Offerings For The Undead
DIGITAL (2022) · $7.90   add to cart Buy on Bandcamp
Also available:
CD · Spiritual Archives $13.00
Vinyl · Heaving Vinyl LP $22.00
In a faraway land, on a forgotten mountain top, stands a willowy, robed figure. David Thrussell has weathered many storms, been lashed by violent torrents and burned flying too close to the blistering sun.
Once notorious as a provocative musician, prescient satirist and counter-cultural bellwether, today, due to radical and ultimately unsuccessful treatment regimes, Thrussell is essentially blind and incommunicado. Operating from his mountain Montsalvat, he may not be a direct apocalyptic analogue to doomsday prophets like David Koresh and Ted Kaczynski, but the comparison could well be forgiven in this rugged mountain compound of spartan silence and esoteric study.
Dutifully surrounded by disciples and minders, the blind seer spends long days poring over arcane tomes and forgotten scriptures, in a frugal existence of fasting and contemplation. Day to day financial responsibilities and logistics fall under the stewardship of renowned creative therapist Dr. Ian White, whose tutelage has, after years of pain, set Thrussell on a spare but steady course.
Mandated by Dr. White, every whispered utterance from our accidental messiah is recorded and elaborated into
song by ace producer Vince Valentini and his crack team working deep in the caverns under Montsalvat.

It is not entirely clear that Thrussell is aware of this record album, his words are rare and most often of a mystical or heavily-medicated nature.

The songs transcribed here speak of eyes that yearn to hear and ears that long to sing, an occult realm where the waking hours are a shadowy coma, a hypnotic narcosis whence dark puppeteers manipulate the fragile mass mind. Worked through an army of battered drum machines and cranky synthesizers - then recorded in reverberant and rough-hewn sandstone halls - these songs capture an opiated soul that drifts like smoke through worlds both above and below, battles both good and, most certainly, evil.

Amidst the titanic struggle between light and dark, played out by those few awake and the many, many asleep - take these humble offerings of solace and song back to your world. Sing them loud and let them grow.

A Revolt Against The Modern World.
A Purge of The Demiurge.
Hymns for The Hypnotic.
Eight Offerings for The Undead.

releases February 4, 2022

For AUS / NZ / JAPAN / EU LPs orders:
lightarmoureditions.bandcamp.com/album/eight-offerings-for-the-undead
Track List
01. Call Me Cynical
02. The Armies of The Undead
03. The Brain-Dead Hipster Shuffle
04. Domesticated
05. (I Am Not) An Algorythm
06. The Masque of Evil
07. Jaded
08. Nothin'
Also See