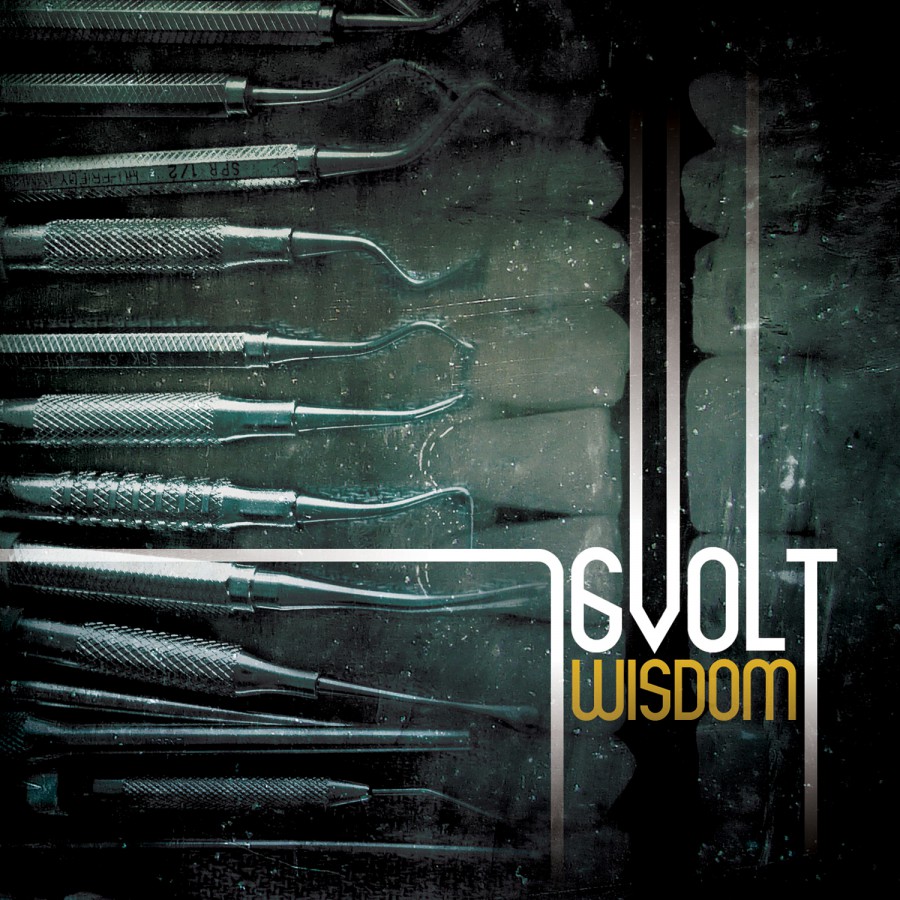 Wisdom
CD (2012) · $12.98   add to cart Listen & Buy on Bandcamp
The early '90s was a prosperous time for the industrial music underground, marking the transition toward a more caustic and aggressive sound. Advances in technology and production techniques allowed for a better integration of guitars into the synthesized nightmarish soundscapes and danceable clamor that defined the genre, allowing bands like Nine Inch Nails and Ministry to thrive in the mainstream while the underground began cultivating its own brand of noisy rock & roll with bands like KMFDM, Cubanate, and Chemlab rising to prominence. At the forefront of this new machine rock movement was 16volt, whose 1993 debut album
Wisdom
helped usher in the tropes of what would come to be referred to as "coldwave." Released on Re-Constriction Records subsidiary Cargo Records,
Wisdom
remains a prime example of 16volt's now signature blend of mechanical percussion and atmosphere with the guttural rawness of punk/rock guitars, topped off by front man Eric Powell's acerbic shouts and sinister whispers. Sadly, the original album has been long out-of-print, available via 16volt's website as a digital album only… until now.
Almost 20 years later, the messiahs of machine rock return to the album that started it all! In 2012, Metropolis Records releases
Wisdom
to the masses, remastered and featuring several never-before-heard remixes and bonus tracks. From the first thunderous beats and cacophonous sequences leading into grinding guitar riffs and Powell's slithering vocals, "Motorskill" remains a club staple to this day, offered up on this release in three forms with the Quad remix and the original demo both evoking a heavy industrial dance influence reminiscent of Skinny Puppy. Similarly, the Nightmare remix of "Dreams of Light" and the previously unreleased "Black Hole" race by with the urgency and power of any modern EBM floor stomper. We also are presented with the unabashed guitar vitriol and mechanized loops of "Head of Stone" and the pounding march and grooving progressions of "Hand Over End," as well as the slower but no less energetic stabs of noise and descending ambience of "Filthy Love of Fire" and the distorted trip-hop and shimmering atmosphere of "Downtime (Part 1)." The title track remains a haunting piece of industrialized nightmare with its eerie manipulations of samples, chugging guitars, and stop-start beats, while "Will" struts with hypertensive menace, the scathing synths and vocals sure to affect even the most hardened rivethead's equilibrium.
This rerelease of
Wisdom
is a momentous occasion for fans of 16volt and industrial rock alike, a piece of underground music history that shows no signs of aging after almost two decades. Featuring production from renowned figures like Dave "Rave" Ogilvie (Skinny Puppy) and Keith "Fluffy" Auerbach (Ministry),
Wisdom
is not only an amalgam of the band's early influences, but also showcases the beginning of 16volt's evolution into ever more adventurous territory, all the while presenting a vicious coldwave assault that sounds as fresh and as menacing today as it did in 1993. Listen, rejoice, and wise up!
Track List
01. Motorskill
02. Wisdom
03. Head of Stone
04. Filthy Love of Fire
05. Hand Over End
06. Will
07. Dreams of Light
08. Downtime (Part 1)
09. Motorskill (Quad - Hate Dept. Remix)
10. Dreams of Light (Nightmare - Hate Dept. Remix)
11. Filthy Love of Fire (Unreleased Dave Ogilvie Remix)
12. Black Hole (Unreleased Bonus Track)
13. Motorskill (Demo Version)
Also See