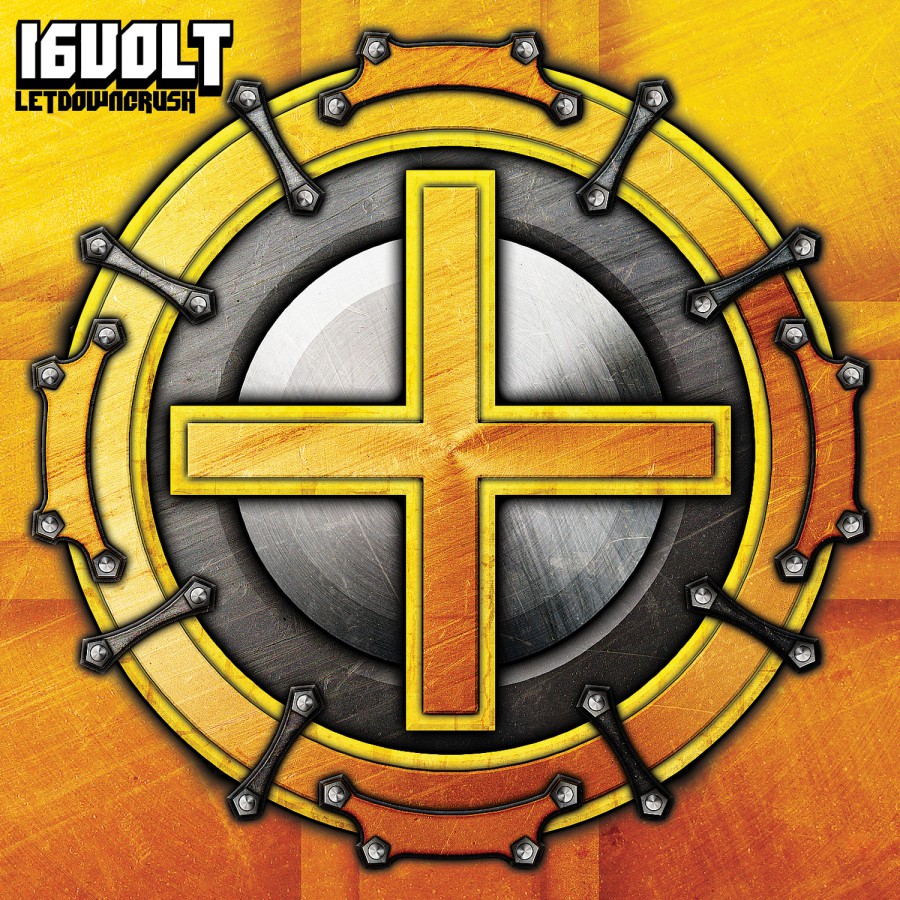 16volt
LetDownCrush
DIGITAL (2012) · Listen & Buy on Bandcamp
Also available:
CD $12.98
Three years is a short time for any band to come into its own. Consider all the time to rehearse and perform any and every gig available, gaining new fans and building an audience, all the while honing the craft and creating a sound that can easily be identified and distinguishable from the myriad of other like-minded groups striving to get noticed; for any band to last even one year is quite a feat, let alone to actually produce an album. Nevertheless, in three short years, 16volt had become a major player in the industrial music underground. Joining in the ranks of the guitar-heavy electronic juggernaut that had come to be known as coldwave, Eric Powell and his cohorts were tearing up the dance floors and the mosh pits with two albums under their belts.
The band's sophomore album,
Skin
was already a much leaner and far more aggressive affair than the
Wisdom
debut. The songs were shorter, the arrangements tighter with less emphasis on slow atmospheres and more on the rapid fire interplay of mechanical rhythms and crunchy guitars. With
LetDownCrush
, 16volt launched full speed ahead with an unadulterated machine rock assault that takes no prisoners, setting many of the tropes of the band's sound and style that continue to this day. Released in 1996 on the now defunct but renowned Re-constriction imprint at the height of the industrial machine's infiltration of the mainstream,
LetDownCrush
found itself in a rather odd and exciting place in music history – Chemlab was organizing militias on the east side and KMFDM were busy being Xtorted; Stabbing Westward were withering, blistering, burning and peeling, and Gravity Kills were admitting guilt; Ministry were being filthy pigs and Skinny Puppy entered a process of bitter hibernation. It was the year of industrial, and 16volt were by now a well oiled war machine, locked and loaded for action.
The sultry and sinister laugh of guest vocalist Stella "Soleil" Katsoudas resonates through the speakers as electronic noise crackles into a mechanized percussive beat. Descending power chords and Powell's acerbic vocals kick in, and "Swarm" begins
LetDownCrush
with the force of a battering ram to the throat. With each successive track, the album unleashes a vicious onslaught of textural ambient backdrops that give added weight to the virulent guitars and caustic synthesizers. The pummeling rhythms and scathing guitars of "Breed" race by like the audio equivalent of an adrenaline high, while "Shameface" spares no ear drums with the percussion taking on an especially furious tonality, the guitars taking on a noisy texture like the metallic screams of a dilapidated factory. Other tracks move at a much more moderate, though no less pulsating tempo, with "A Cloth Like Gauze" marching by with thunderous bravado thanks to live drums courtesy of Dan Pred, and "Two Wires Thin" being heralded as the quintessential coldwave anthem, featuring Haloblack and H3llb3nt collaborator Bryan Black. Also among the album's collaborators is Marc LaCorte, co-writing four songs and lending his own particular brand of guitar grit and grime for some added industrial power.
Never one to eschew melody, 16volt is as catchy as belligerent on
LetDownCrush
with tracks like "The Dreams that Rot in Your Heart" and especially "The Cut Collector" becoming underground favorites and remaining staples of the band's live shows to this day thanks to their incendiary choruses. Similarly, the infectious and ominous "Crush" slithers by with just enough bite to keep the album's acidity level in the red, while "Something Left" steadily builds from thrumming bass and whistling synthesizers hinting at the onset of a violent attack, an approaching beast that wait until the last possible second to sink its fangs into the listener. Throughout, Powell's vocals are perhaps at their rawest, often sacrificing perfect pitch or processing to reveal the unfettered emotions at play.
LetDownCrush
was the final 16volt release on Re-construction, left to wallow in the mire of out-of-print status for 15 years. Now offered in its remastered glory on Metropolis Records, fans can enjoy this third album from the messiahs of machine rock and bask in one of the great classics of the underground scene. Featuring as a bonus track the band's cover of the Cypress Hill classic "Ain't Going Out Like That,"
LetDownCrush
is an album that is as diverse as it is consistent and concise; a piece of industrial rock history that marks the first 16volt album to hold the ThreeWordTitle, reached #1 in the Rolling Stone alternative charts, and features departed legends guitarist William Tucker and engineer Jeff "Critter" Newell. Eric Powell and his associates had come a long way in the three years since their debut and
LetDownCrush
solidified 16volt as the premiere coldwave force!
Track List
01. Swarm
02. The Dreams That Rot In Your Heart
03. A Cloth Like Gauze
04. Something Left
05. The Cut Collector
06. Crush
07. Breed
08. Two Wires Thin
09. Shameface
10. Carla's Tarantulas
11. We Ain't Goin' Out Like That