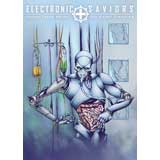 Electronic Saviors: Industrial Music To Cure Cancer
CD (2010) · CURRENTLY UNAVAILABLE
Also available:
Digital $24.98
Cancer has taken many loved ones away from us. Metropolis Records, in association with Distortion Productions, presents a five disc box set of exclusive tracks by some of the biggest names in the industrial genre to raise money for cancer research. Cancer survivor and long time promoter and DJ, Jim Semonik has assembled 83 artists from around the world. The boxset includes 4 cds
and a downloadable 5th disc when you purchase the physical edition.
This compilation contains 83 tracks in total, including new exclusive tracks and mixes by
Combichrist, 16 Volt, Assemblage 23, Suicide Commando, Noisuf-X, Chemlab, Cesium 137, Stromkern, Imperative Reaction, Rein[Forced], System Syn and many more.
Packaged in a DVD style digipak containing the four physical CDs and the dropcard for the "Bonus Medication" disc 5 digital download. Proceeds will be donated to the Foundation for Cancer Research and Wellness
-Limited Edition of 2500 copies.
TRACK LISTING FOR Disc 5-Bonus Medication(Digital Download):
1. Wreckcreation-Incomplete Me (Remix)
2. Borderlines-Visualization
3. AimOniA-Three
4. Beloved Dead-Twist of Fate
5. Derek C. F. Pegritz-Please Let Me Go
6. Molecule Party-Riser
7. Patricia Wake-Peaceful Shores
8. Neurobash-Left 4 Dead
9. Jon Zaremba-The Best Way to Tear Anything Down is to Blast!
10. Less Like Flesh-Virus Free
11. EVP-Schrödinger
12. Surviving The Odyssey-Dissolving the Sanity
13. Retar-D2-EXTRA LIVES!
14. The Hose Face-Dread
15. Sachem Orenda-Evident Product of Effort
16. TowerOpensFire-With Heavy Hands
Track List
DISC 1
01. SMP - Stay Sick
02. Stromkern - Notes From A War
03. Boole - Smoking Gun
04. Interface - Never Say Farewell
05. Chemlab - Solar Max (The Jimmy Semtex Coil)
06. Bow Ever Down - Goodbye
07. The Gothsicles - Jim, Let Me Know When You Can Drink Again (Extreme Party Stylezz)
08. Terrorfakt - Painkiller
09. 16Volt - Things Unkind
10. Rein[Forced] - Malignancy (Pancreatitis Mix)
11. Ego Likeness - Save Your Serpent (Light As A Feather Mix)
12. Burikusu!!! - 7 Dimensional
13. Inure - Rapture
14. Cesium_137 - Endure (Encoder Mix)
15. Cyanotic - Axiome (Post Affliction Mix Feat 16Volt)
16. Silent Auction - Deliverance
17. Terror Firma Sky - Cancerous Catalyst Converter

DISC 2
01. The Dark Clan - Beat It, Kill It
02. The Azoic - Search And Destroy (Savior Mix)
03. genCAB - Version 2 (Aesthetic Perfection Mix)
04. Christ Analogue - The Fight
05. Prometheus Burning Feat Jimmy Semtex of Rein[Forced] - Malignant Disco
06. Boxed Warning - Run First
07. Assemblage 23 - Impermanence (Flight AC-112 Mix)
08. I:Scintilla - From A Wasteland To A Dream
09. Imperative Reaction - Giving In To The Change (Assemblage 23 Mix)
10. ThouShaltNot - Sick
11. Combichrist - Nosepad
12. Sonik Foundry - Stigmata
13. XuberX - Fear Is Fear
14. Mindless Faith - Into The Wind
15. Cyber Strukture - Some Sorta Rhythmic Machine
16. vircon - Count Backwards From Ten
17. Jordan Decay - The Great War

DISC 3
01. Deathline Int'l - Breaking
02. Encoder featuring Jimmy Semtex of Rein[Forced] and Patricia Wake - Jim's Song
03. Vicious Alliance - Right Beside You (Save Me Now Mix)
04. backandtotheleft - Maybe Today
05. Nachtmahr - Katharsis (Purification Mix)
06. Null Device - Under the Gun (Immune Response Mix)
07. Suicide Commando - Until We Die (Winter Edit)
08. Agnes Wired For Sound - Don't Worry (We'll Meet Up Again)
09. System Syn - Blood (2009 Edit)
10. Acumen Nation - The Juice Of Rotted Fruit
11. Aesthetic Perfection - The Ones (genCAB Mix)
12. Dismantled - Not Me
13. FGFC820 - Children Of Decay (Northborne Mix)
14. Everything Goes Cold - I've Sold Your Organs On The Black Market To Finance The Purchase Of A Used M
15. Leæther Strip - The Scalpel Song (Neoplasm Edit)
16. Mordacious - Sleeping Beauty
17. Flesh Field - Detritus Of Reason

DISC 4
01. Noisuf-X - White Noise (Gift Mix)
02. Hardwire - I Am Forever
03. The Atomica Project - Transmission
04. Massiv In Mensch featuring Mind.In.A.Box - Supermassive Gravity (Endanger Mix)
05. SD6 - Free (Interface Mix)
06. Obscenity Trial - Here And Now (Banging Mix by XP8)
07. Alter Der Ruine VS Premeditated Light - Dawn
08. nolongerhuman - Survival
09. Iris - Imposter (ThouShaltNot Remix)
10. Debutante - Alive
11. Andraculoid - You Tried To Kill Me, But I Killed You First
12. Deviant UK - Access Denied (Rotersand Mix)
13. Hypefactor - The Sweetest Soul (Rex Mix)
14. Freezepop - Duct Tape My Heart (Chinese Theatre Remix)
15. Spahn Ranch - In The Aftermath (Moroder Mix)
16. Caustic - Jim Made Cancer His Bitch



Listen & Buy
(Tracks from the digital version)
| | | | | |
| --- | --- | --- | --- | --- |
| | SMP - Stay Sick | 5:47 | $ 0.89 | buy mp3 |
| | Stromkern - Notes From A War | 4:46 | $ 0.89 | buy mp3 |
| | Boole - Smoking Gun | 4:33 | $ 0.89 | buy mp3 |
| | Interface - Never Say Farewell | 5:25 | $ 0.89 | buy mp3 |
| | Chemlab - Solar Max (The Jimmy Semtex Coil) | 4:24 | $ 0.89 | buy mp3 |
| | Bow Ever Down - Goodbye | 3:18 | $ 0.89 | buy mp3 |
| | The Gothsicles - Jim, Let Me Know When You Can Drink Again (Extreme Party Stylezz) | 3:55 | $ 0.89 | buy mp3 |
| | Terrorfakt - Painkiller | 4:08 | $ 0.89 | buy mp3 |
| | 16Volt - Things Unkind | 4:01 | $ 0.89 | buy mp3 |
| | Rein[Forced] - Malignancy (Pancreatitis Mix) | 3:59 | $ 0.89 | buy mp3 |
| | Ego Likeness - Save Your Serpent (Light As A Feather Mix) | 5:20 | $ 0.89 | buy mp3 |
| | Burikusu!!! - 7 Dimensional | 4:56 | $ 0.89 | buy mp3 |
| | Inure - Rapture | 3:55 | $ 0.89 | buy mp3 |
| | Cesium_137 - Endure (Encoder Mix) | 4:00 | $ 0.89 | buy mp3 |
| | Cyanotic - Axiome (Post Affliction Mix Feat 16Volt) | 5:04 | $ 0.89 | buy mp3 |
| | Silent Auction - Deliverance | 3:37 | $ 0.89 | buy mp3 |
| | Terror Firma Sky - Cancerous Catalyst Converter | 4:37 | $ 0.89 | buy mp3 |
| | The Dark Clan - Beat It, Kill It | 4:22 | $ 0.89 | buy mp3 |
| | The Azoic - Search And Destroy (Savior Mix) | 3:38 | $ 0.89 | buy mp3 |
| | genCAB - Version 2 (Aesthetic Perfection Mix) | 4:40 | $ 0.89 | buy mp3 |
| | Christ Analogue - The Fight | 3:37 | $ 0.89 | buy mp3 |
| | Prometheus Burning Feat Jimmy Semtex of Rein[Forced] - Malignant Disco | 4:31 | $ 0.89 | buy mp3 |
| | Boxed Warning - Run First | 3:58 | $ 0.89 | buy mp3 |
| | Assemblage 23 - Impermanence (Flight AC-112 Mix) | 4:45 | $ 0.89 | buy mp3 |
| | I:Scintilla - From A Wasteland To A Dream | 3:55 | $ 0.89 | buy mp3 |
| | Imperative Reaction - Giving In To The Change (Assemblage 23 Mix) | 4:25 | $ 0.89 | buy mp3 |
| | ThouShaltNot - Sick | 4:17 | $ 0.89 | buy mp3 |
| | Combichrist - Nosepad | 6:05 | $ 0.89 | buy mp3 |
| | Sonik Foundry - Stigmata | 4:48 | $ 0.89 | buy mp3 |
| | XuberX - Fear Is Fear | 4:45 | $ 0.89 | buy mp3 |
| | Mindless Faith - Into The Wind | 5:17 | $ 0.89 | buy mp3 |
| | Cyber Strukture - Some Sorta Rhythmic Machine | 4:24 | $ 0.89 | buy mp3 |
| | vircon - Count Backwards From Ten | 4:29 | $ 0.89 | buy mp3 |
| | Jordan Decay - The Great War | 4:31 | $ 0.89 | buy mp3 |
| | Deathline Int'l - Breaking | 4:11 | $ 0.89 | buy mp3 |
| | Encoder featuring Jimmy Semtex of Rein[Forced] and Patricia Wake - Jim's Song | 4:03 | $ 0.89 | buy mp3 |
| | Vicious Alliance - Right Beside You (Save Me Now Mix) | 4:29 | $ 0.89 | buy mp3 |
| | backandtotheleft - Maybe Today | 5:26 | $ 0.89 | buy mp3 |
| | Nachtmahr - Katharsis (Purification Mix) | 3:38 | $ 0.89 | buy mp3 |
| | Null Device - Under The Gun (Immune Response Mix) | 5:05 | $ 0.89 | buy mp3 |
| | Suicide Commando - Until We Die (Winter Edit) | 4:44 | $ 0.89 | buy mp3 |
| | Agnes Wired For Sound - Don't Worry (We'll Meet Up Again) | 4:02 | $ 0.89 | buy mp3 |
| | System Syn - Blood (2009 Edit) | 3:23 | $ 0.89 | buy mp3 |
| | Acumen Nation - The Juice Of Rotted Fruit | 4:27 | $ 0.89 | buy mp3 |
| | Aesthetic Perfection - The Ones (genCAB Mix) | 5:01 | $ 0.89 | buy mp3 |
| | Dismantled - Not Me | 2:57 | $ 0.89 | buy mp3 |
| | FGFC820 - Children Of Decay (Northborne Mix) | 5:22 | $ 0.89 | buy mp3 |
| | Everything Goes Cold - I've Sold Your Organs On The Black Market To Finance The Purchase Of A Used M | 5:38 | $ 0.89 | buy mp3 |
| | Leæther Strip - The Scalpel Song (Neoplasm Edit) | 5:37 | $ 0.89 | buy mp3 |
| | Mordacious - Sleeping Beauty | 4:22 | $ 0.89 | buy mp3 |
| | Flesh Field - Detritus Of Reason | 4:06 | $ 0.89 | buy mp3 |
| | Noisuf-X - White Noise (Gift Mix) | 3:50 | $ 0.89 | buy mp3 |
| | Hardwire - I Am Forever | 3:44 | $ 0.89 | buy mp3 |
| | The Atomica Project - Transmission | 4:33 | $ 0.89 | buy mp3 |
| | Massiv In Mensch featuring Mind.In.A.Box - Supermassive Gravity (Endanger Mix) | 4:36 | $ 0.89 | buy mp3 |
| | SD6 - Free (Interface Mix) | 5:34 | $ 0.89 | buy mp3 |
| | Obscenity Trial - Here And Now (Banging Mix by XP8) | 4:50 | $ 0.89 | buy mp3 |
| | Alter Der Ruine VS Premeditated Light - Dawn | 6:08 | $ 0.89 | buy mp3 |
| | nolongerhuman - Survival | 4:35 | $ 0.89 | buy mp3 |
| | Iris - Imposter (ThouShaltNot Remix) | 4:19 | $ 0.89 | buy mp3 |
| | Debutante - Alive | 4:40 | $ 0.89 | buy mp3 |
| | Andraculoid - You Tried To Kill Me, But I Killed You First | 4:51 | $ 0.89 | buy mp3 |
| | Deviant UK - Access Denied (Rotersand Mix) | 5:31 | $ 0.89 | buy mp3 |
| | Hypefactor - The Sweetest Soul (Rex Mix) | 5:51 | $ 0.89 | buy mp3 |
| | Freezepop - Duct Tape My Heart (Chinese Theatre Remix) | 4:32 | $ 0.89 | buy mp3 |
| | Spahn Ranch - In The Aftermath (Moroder Mix) | 5:18 | $ 0.89 | buy mp3 |
| | Caustic - Jim Made Cancer His Bitch | 4:01 | $ 0.89 | buy mp3 |
Also See