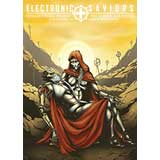 Electronic Saviors 2: Recurrence
DIGITAL (2012) · Listen & Buy on Bandcamp
Also available:
Box $29.98
Life after having cancer can be a difficult ordeal. One is especially lucky to survive it. After enduring chemotherapy, radiation and a multitude of other therapies, there can be a lingering fear in the patient who is now a cancer survivor. Cancer returning is a nightmare come true to any patient. Scene promoter, DJ and Rein[Forced] frontman, Jim Semonik knows this only too well. Having survived stage 2B colorectal cancer in 2008, Semonik created one of the most successful compilations in any scene with the help of 83 musicians with
Electronic Saviors: Industrial Music To Cure Cancer
. This piece was very well received by press and critics and raised over 20K for Charity.
This time, he assembled a cast of 142 artists from all over the world to take on all forms of cancer. Semonik returns with all guns blazing on
Electronic Saviors 2: Recurrence
with new, rare and exclusive tracks from God Module, System Syn, Project Pitchfork, Hocico, Blutengel, The Dark Clan, Rein[Forced], 16Volt, Ayria, Left Spine Down, Panic Lift and much much more. From Covenant's upbeat "Lightbringer Feat Necro Facility (Speedrun II Mix)" to 16Volt's downtemo "Burn (Father Dub)" to the guitar attack Deathline International's "Inside" to the soothing synthpop of Tenek's "World of no Relief", ES2 offers something for everyone. This will be a massive 6 disc boxset available physically with gorgeous artwork from Jeff Confer and Samantha Johnson. Presented in a lovely 8 panel digipak with 16 page booklet, Jim's quest to bring this disease to an end through music has grown by leaps and bounds.
Jim dedicates this body of work to all who have suffered with cancer as well as survivors and loved ones touched by the disease.
Track List
01. Tenek - A World Of No Relief
02. Deathline Int'l - Inside
03. Cancerface - Tumor Curbjob
04. Panic Lift - Footsteps
05. The Gothsicles - Who Wants to Join Our Super Hero Team? (Right Now, It's Just Me & Jim)
06. Inertia - Deworld (New Day Mix)
07. Santa Hates You - Pack Your Bags Honey, We're Going To Hell! (Road Trip Remix)
08. The Azoic - Corruption (Remix by Encoder)
09. Rein[Forced] - Burnt
10. Deathproof - Bitcrush
11. Cyferdyne - Nova
12. Null Device - Through Closing Eyes
13. Sonik Foundry - Relapse
14. Left Spine Down - Stolen Car (B&E Mix)
15. Detroit Diesel - Under Fire
16. In Strict Confidence - Bitter Truth
17. Edge Of Dawn - Lucid Dreams (Standeg Remix)
18. Constance Rudert - The Harbour Song
19. Wreckcreation Featuring Dan Clark Of The Dark Clan - No Regrets
20. Project Pitchfork - Lament (Electronic Saviors Remix)
21. Solitary Experiments - Immortal (Icon Of Coil Mix by Sebastian Komor)
22. Hypefactor - Descriptive
23. Uberbyte Featuring Jimmy Semtex of Rein[Forced] - Phantasm
24. Mindless Faith - Tragedy
25. Soil & Eclipse - The Will (Survival Mix)
26. Suicide Commando - The Perils of Indifference (Stahlnebel vs. Black Selket Remix)
27. Lowe - Mirage (Saviors Mix)
28. CYLiX - I Don't Exist
29. I:Scintilla - Swimmers Can Drown (Diabolic Art Mix)
30. Inure - This Is The Life (Cryogen Second Mix)
31. Trakktor - Hollow Spirits
32. 23RAINYDAYS - Monster (v2)
33. Accessory - Voran (Der Teufel im Spiegel Mix by Boole)
34. Twilight Laboratory - Intention
35. TERRORFAKT - Marching Into Valhalla
36. System Syn - God Damn (Imperative Reaction Remix)
37. AD INFERNA - A.I. DOMINION
38. Boole - Walpurgisnacht
39. Ego Likeness - Infidel
40. Binary Park - World's Collide (Saviors Mix)
41. Die Sektor - The Just Will Be Silenced
42. Stiff Valentine - Suicide Execute
43. head-less - Punish Your Head (Mental Discipline Remix)
44. Ludovico Technique - This Life (Lexincrypt Remix)
45. Psy'Aviah - Sweet Hard Revenge (Fallon Nieves Rendition)
46. Aesthetic Perfection - The Devil's in the Details (Sthilmann Remix)
47. Terminal Choice - Fight the System (Rabia Sorda Mix)
48. Diverje - Suffer This World (Centhron Remix)
49. am.psych - My Enemy
50. The Rain Within - The Other Side
51. UCNX - The Innocent ($150 Remix by Idiot Stare)
52. Jon Zaremba - Snakes, You Get Out Of Here! This Is Not Your Room, This Is My Room. Now, You Just Get
53. The Mighty Chouffe - Always This Heart
54. Angels On Acid - Satellite
55. Terrolokaust - Thirsty (V2.0)
56. Ashbury Heights - Decent Cancer
57. God Module - The Great Commandment
58. Bella Morte - Lost
59. Encoder - Shadows
60. Alter Der Ruine - Ghosts (Swank Version)
61. Militant - Sabotage
62. Ghost & Writer - Hurricane (Splitter Mix)
63. iVardensphere - Chasing the Dragon (Lost Tribe Version)
64. Spetsnaz - Satiric Strokes
65. Decree - Come and See
66. SD6 - These Days (Single Mix)
67. Distorted Memory - Hand Of God (Iszoloscope Remix)
68. Cryogen Second - Thirty Eight (feat. Sarah Chenoweth of Synapse)
69. Trigger10d - Puddlehopping (Alternate Mix by Todd Aeschliman)
70. Life Cried - Another Sacrifice (Rejected)
71. Mesh - You'll Never Understand (Harder)
72. The Dark Clan - Sick As Love
73. Caustic - 1984 (Was A Very Bad Year)
74. 16Volt - Burn (Father Dub Mix)
75. Empusa Featuring Miss FD - You
76. Everything Goes Cold - King of the Impossible (Signal Drums Mix by The Dark Clan)
77. Second Class Citizen (JFS Mix by Ken
78. Unit:187 - Second Class Citizen (JFS Mix by Ken 'Hiwatt' Marshall)
79. AimOniA - Surrender
80. Patricia Wake Feat. Dan Clark, Lane Ellen, John Verbos, and Jolexx - Your Love, My Medicine
81. Espermachine - Dying Life
82. boxed warning - Paralyzed For Sleep
83. Reaxion Guerrilla - Imperfextion Humana (Radio perVersion)
84. Cesium_137 - From Within (xrayhead mix)
85. Retrogramme - Share the Cancer
86. N.T.T. - If This Body Should Fail Me
87. Necrotek - Beyond Death
88. Covenant Feat. Necro Facility - Lightbringer (Speedrun II)
89. Sensuous Enemy - Re:Mission
90. Neuroactive - Never Felt Better (Recovery Mix)
91. Nachtmahr - Can You Feel The Beat (Nitronoise Remix)
92. Ayria Feat. Jimmerz Semtex of Rein[Forced] & Jimmerz Cookas of I:Scintilla - Blue Alice (Jims of the
93. Syrian - Speed of Light (T3chn0ph0b1a Remix)
94. Decoded Feedback - Resilience
95. Obscenity Trail - Über's Wasser Gehen ([:SITD:] Remix)
96. XuberX - Terrible Strength
97. Monody - In Between (Irradiated Mix)
98. Hocico - Embraced By The Light
99. ThouShaltNot - New Year (A Heartbeat From The End)
100. FGFC820 - The Heart Of America (Dräcos Mix)
101. Interface - Inner Light (feat. Liebchen)
102. Terror Firma Sky - Music For Medicinal Purposes
103. Agnes Wired For Sound - Silicone Sheets
104. Society Burning - I Am The Man
105. DYM - Tumor