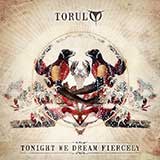 Tonight We Dream Fiercely
DIGITAL (2013) · Listen & Buy on Bandcamp
Also available:
CD $12.98
Originally hailing from Ljubljana, Slovenia, Torul surprised many electronic music fans with the 2011 release of the album
In Whole
. The band established itself with the singles "Try" and "Partially Untamed", both of which climbed into the alternative charts such as DAC, GEWC, DAT20 and EAC. International press and media praised the band as one of the next big things in innovative electro. Torul creates a strong, unique spin on trance-influenced, highly danceable electropop, much in the vein of bands such as De/Vision, Mesh, & Iris. Hook-laden and lush, with highly danceable beats,
Tonight We Dream Fiercely
shows the band continuing where the last album left off.
Track List
01. The Sun!
02. Wake Up
03. The Fall
04. I'm Still Here
05. All In
06. Mad World
07. Glow
08. A Leak
09. Always Embraced
10. All Over Again
11. End Of Story
Also See