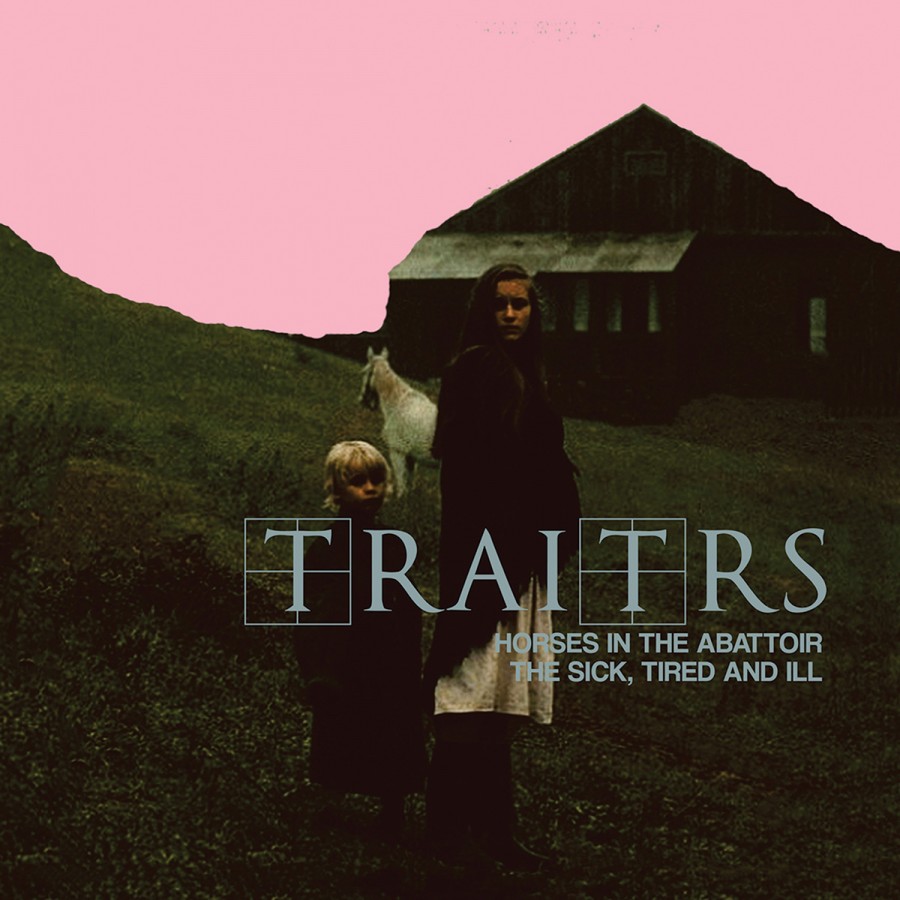 TRAITRS
Horses In The Abattoir/The Sick, Tired, & Ill
VINYL (2023) · $30.00   add to cart Listen & Buy on Bandcamp
Also available:
CD $14.00
Based in Toronto, TRAITRS was formed in 2015 by Sean-Patrick Nolan and Shawn Tucker. With a cinematic blend of post-punk, goth, alternative and post-rock, their emotive melodies, propulsive rhythms, angular guitars, and dark cinematic electronics quickly led to the duo becoming one of the dark music scene's fastest rising independent artists. Working with Josh Korody (F*cked Up, Japandroids, Dilly Dally, Beliefs, Nailbiter) at Candle Recording Studio, the band has released an impressive catalog of work, starting with 2016's "Rite and Ritual" and the EPs "Heretic" and "Speak In Tongues" in 2017.
These releases garnered praise and attention in both North America and Europe, leading to TRAITRS releasing its critically acclaimed 'Butcher's Coin' LP in 2018.

A turbulent, atmospheric, and enthralling album, "Horses in the Abattoir" which Sean-Patrick Nolan described to post-punk.com, "To me this whole record is about passing time and aging; the frailty and impermanence of existence. How everything we know and love exists briefly before disappearing into nothing. This record covers a wide emotional spectrum from the beautiful to the horrific, overwhelming strength to heartbreaking vulnerability..."
Shawn Tucker said "The theme of the record pulls heavily from the title: taking something innocent and beautiful and ending its life for no reason. In retrospect, 'Horses' captures the darkest period of our entire lives and that hurt bleeds out all over the record. I can definitely say we are still the same band, but certainly not the same inside ourselves. Somehow 'Horses' became its own beast and solidified its own place in the world. At times it seemed like all we had left was 'Horses' and the record felt much stronger and self-contained than us. We stepped out of ourselves for a while, imploding, almost not finding our way back. We just were not that well to be completely honest. It was a destructive time and I didn't even realize what was happening until the storm had finally passed. Despite all this, we had written 17 songs, over a hundred fragments and were excited to start a new phase of our career with Freakwave Records. When I hear this record, it pulls things out of me that you might not want to feel or confront, but that's what making art should be about. This record's filled with anger, sadness, beauty, hurt, love, loss and beyond. I'm very proud of this record. It's our best work to date, hands down, our post-depression record.
Track List
01. Sea Howl
02. Mouth Poisons
03. Prostitution
04. Magdalene
05. Oh, Ballerina
06. TV Hours
07. All Living Hearts Betrayed
08. From This Old Mirror
09. Ghost And The Storm
10. Last Winter
11. The Way Through A Bird's Love
12. Magdaline
13. Sweet Home
14. In Paintings, I know The Killing Place
15. Burn to the Sun
16. Eat the Glass of a Dying Heart
17. The Darkling Thrush