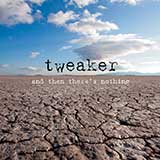 and then there's nothing (Deluxe)
DIGITAL (2013) · Listen & Buy on Bandcamp
Digital only Deluxe version features 5 additional remixes!
Best described as a mix of alternative, pop/rock, and electronica, Chris Vrenna's tweaker blends an intriguing mix of influences and atmospheres. Dark and moody, the most recent album,
call the time eternity
, is an electronic fever dream ride through a late night breakdown. As an accompaniment to the album, tweaker presents
and then there's nothing
, a sixteen-track remix album. The new release presents two new songs alongside a stunning array remixers. Legendary names such as Gary Numan & Ade Fenton, Dave Lombardo (former drummer of Slayer), KMFDM, Dave Ogilvie, and Front Line Assembly offer their unique takes on Vrenna's songs, as do newer, growing names such as Army of The Universe, 3Kstatic, and Exageist.
Track List
01. Pig-grinder (Raymond Watts Mix)
02. Nothing At All (Gary Numan & Ade Fenton Mix)
03. Grounded (Dave Ogilvie & Colin Janz Mix)
04. Nothing At All (Front Line Assembly Mix)
05. A Bit Longer Than Usual (Rasputina Mix)
06. Areas of the Brain (KMFDM Mix)
07. Hoarding Granules (Sean Beavan & Joe Haze Mix)
08. Grounded (Dave Lombardo Mix)
09. Nothing At All (Alternate Rock Mix)
10. All In
11. Ponygrinder (Army of The Universe Mix)
12. Nothing At All (Exageist Mix)
13. Wasted Time (Rob King feat. Adrian Terrazas-Gonzalez Mix)
14. Grounded (3KStatic Mix)
15. Limerence
16. Fine (Aaron Zilch Mix)
17. Fine (Rojer Faust Mix)
18. Grounded (Joe Haze Mix)
19. Fine (3KStatic Mix)
20. Nothing At All (Shiv-r Mix)
21. Grounded (Perileyes & Encanti Mix)