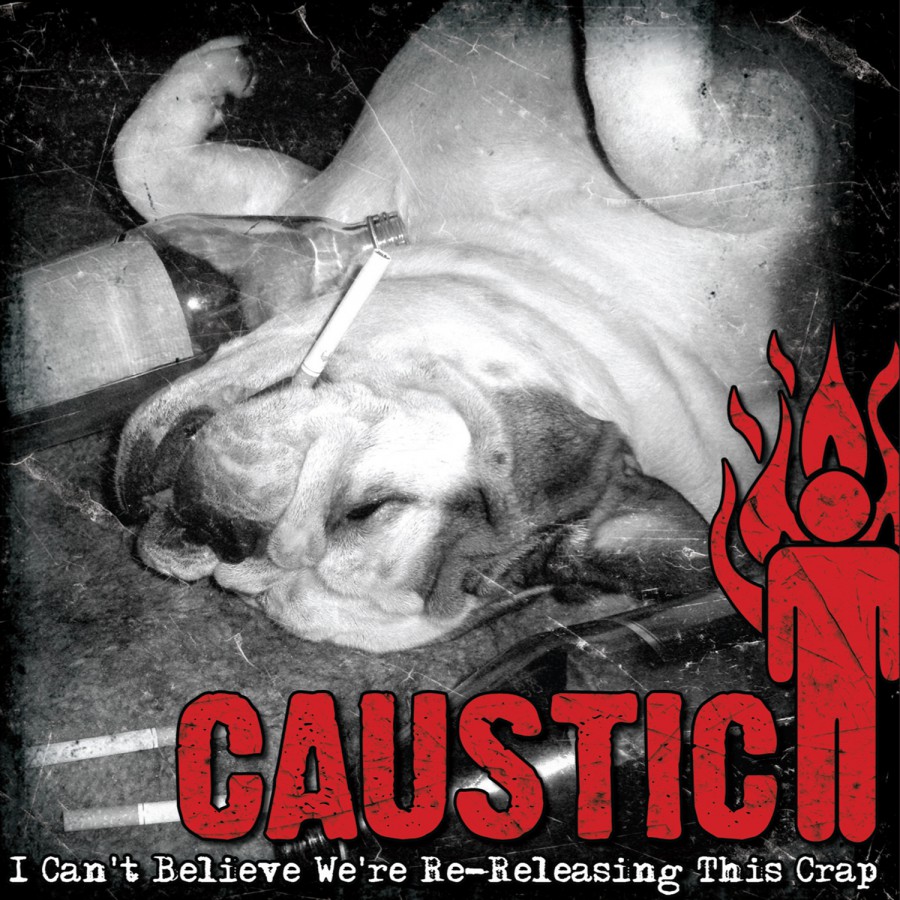 I Can't Believe We're Re-Releasing This Crap
CD (2012) · $15.98   add to cart
Rare is the artist where every album, nee every song, is instantly and unequivocally considered a classic. Rarer still does that artist reach and maintain a peak level in terms of both popularity and critical acclaim.
Caustic, undoubtedly, is such an artist, and Metropolis is now re-releasing Caustic's first two albums
Unicorns, Kittens, & Shit
and
Booze Up and Riot
, originally from the Crunch Pod label, in a combined and expanded 2CD version entitled
I Can't Believe We're Re-Releasing This Crap
. 2006's controversial (and quickly sold out)
Unicorns, Kittens, & Shit
established Caustic as The Artist To Watch For Awhile Until The Next VNV Came Out, with eternally classic cuts "Emmanuel Lewis Handjob", "MMM Papscraper I Love You", and "Love That Taint" propelling Matt Fanale's trademark raw, punk electronic sound into the forefront of several sub-sub-genres of industrial.
Booze Up and Riot
, with its legendary title track and others such as "Industrial Moustache Ride", and "Mutilate" followed in 2007, creating even more legion of fan for Caustic.
I Can't Believe We're Re-Releasing This Crap
contains all of the original tracks from the two albums plus 10 bonus tracks originally found on various compilations, EPs, and other rare releases. Also included in the liners/digital booklet is a link for 20+ remixes, including the original 3 mixes found on UK&S from Mimetic, Keef Baker, and Cenotype, plus remixes from Grendel, God Module, Iris, Alter Der Ruine, XP8, and more.
Guest appearances on the albums include the likes of Combichrist's Andy LaPlegua, Assemblage 23's Tom Shear, Chemlab's Jared Louche, and underground comic legend Doug Stanhope.
Experience the magic and revisit Caustic's early, sublimely brilliant days of decadence, depravity, and dick jokes with
I Can't Believe We're Re-Releasing This Crap
. Then you can die happy.
Track List
DISC 1
01. This Track Will Get Skipped A Lot
02. Love That Taint
03. Give Me Damage
04. Emmanuel Lewis Handjob
05. Drag Show Gone Wrong
06. Innate (with Severina X Sol)
07. I Gave The Blind Boy My Eyes (But Stole His Tongue)(Empusae vs Caustic)
08. Burn (Manufactura vs Caustic)
09. You Fuck Us We Fuck You
10. MMM Paperscraper I Love You
11. Grind (with Severina X Sol)
12. Hitler Ruined That Moustache For Everyone
13. Unicorns, Kittens, and Shit
14. Concussive (BONUS TRACK)
15. Desesperade Y Serio (BONUS TRACK)
16. Your Stupid Fucking Face (BONUS TRACK)
17. Ballbuster (BONUS TRACK)
18. White Women (BONUS TRACK)

DISC 2
01. Another Fist in the Ass (with Jared Louche)
02. Booze Up and Riot
03. Kill AFI (they started it)
04. Mutilate (you'll stomp to anything)
05. Industrial Moustache Ride
06. All Your Heroes Are Dildos
07. Dog Dick Ugly
08. Buttgereit
09. Sick Living
10. Spaff Injection
11. Bugchaser
12. Death Rattle A-Go-Go
13. The Reason I Broke Up With You Is A Million Reasons You Psychotic Wang
14. Faceplant
15. Hard Rollin' (W.A.S.T.E. vs Caustic)(BONUS TRACK)
16. Heart Shaped Mattress of Luv (Displacer vs. Caustic)(BONUS TRACK)
17. Romophobia (BONUS TRACK)
18. Rapidly Punching the Soft Spot (BONUS TRACK)
19. Digital Mangina (BONUS TRACK)

Also See