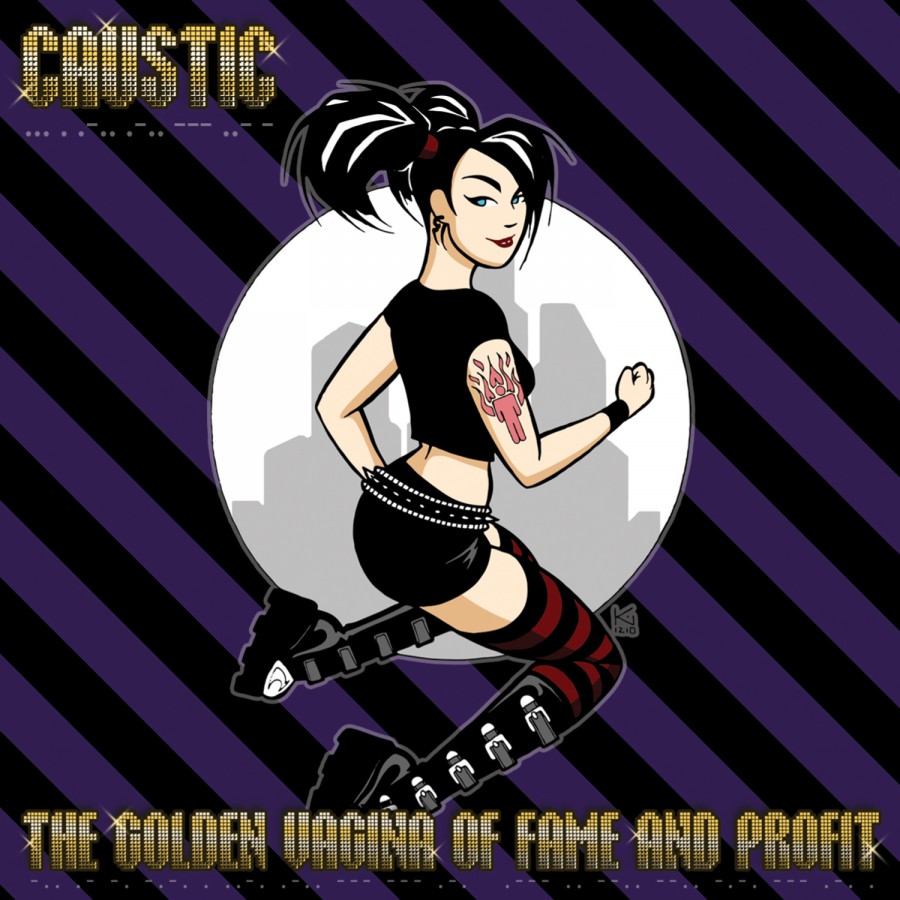 The Golden Vagina Of Fame And Profit
DIGITAL (2011) · $8.90   add to cart
Also available:
CD $9.98
Ladies and Gentlemen,
Out from the deepest aether yet comes another stupendous gramophone recording directly from Caustic's acclaimed Douchanarium, entitled THE GOLDEN VAGINA OF FAME AND PROFIT! Ignore the cullions and anonymuncles and feast your eyes on this Cyclopean feat of musical ingenuity, featuring xyresic lyrical content and propulsive, percussive musicalities sure to make the ankle boots and shoes of every dollymop and guttersnipe stomp.
From the fulgaral wit of '666 on the Crucifix' to the closing 'White Knuckle Head Fuck,' (a voraginous tale of franionism gone wrong), Caustic's demonosopher efforts, once raw and fuliginous, are now more tamed and akin to polished bronze while never losing the mesmerism of earlier efforts. Adding to this fortuitous combination of circumstances are Caustic compatriots Ned Kirby (Stromkern), Unwoman, Bitch Brigade and the known sodomist Faderhead.
Truly a work of moliminous artistry, THE GOLDEN VAGINA OF FAME AND PROFIT lifts the spirit while simultaneously degrading the soul, as any Caustic work should.
Listen & Buy
| | | | | |
| --- | --- | --- | --- | --- |
| | 666 on the Crucifix | 4:46 | $ 0.89 | buy mp3 |
| | Carpe Rectum | 3:37 | $ 0.89 | buy mp3 |
| | Hiroshima Burn | 4:05 | $ 0.89 | buy mp3 |
| | Bulletproof Lolita | 4:44 | $ 0.89 | buy mp3 |
| | Orchid (feat. Unwoman) | 3:52 | $ 0.89 | buy mp3 |
| | I Play Computer! | 1:08 | $ 0.89 | buy mp3 |
| | Darling Nicky's Gnarly Dicking | 3:43 | $ 0.89 | buy mp3 |
| | Generate Chaos (feat. Bitch Brigade) | 4:21 | $ 0.89 | buy mp3 |
| | Chum the Waters (feat. Ned Kirby of Stromkern) | 3:38 | $ 0.89 | buy mp3 |
| | Floor Whore Disko | 4:56 | $ 0.89 | buy mp3 |
| | White Knuckle Head Fuck (feat. Faderhead) | 3:55 | $ 0.89 | buy mp3 |
Also See